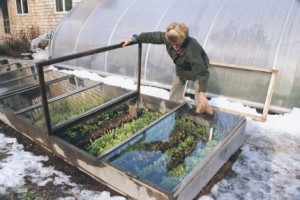 Cold frames have been used in home gardening for many generations. They create a microclimate by insulating the soil and air around your plants. In cold weather regions such as ours, they allow the gardener to start seedlings intended for transplanting very early in the season. They can also be a permanent home to cold-hardy vegetables grown for autumn and winter harvest. Some of the many crops suitable for growing in a cold frame in our winters include lettuces, spinach, parsley, onions, radishes and turnips. We consider cold frames to be a very practical, affordable and space saving alternative to a greenhouse. It's true, you can grow fresh veggies all year!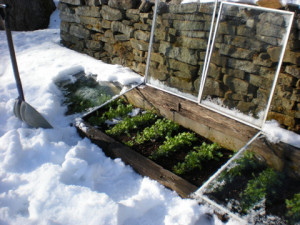 A typical cold frame looks somewhat like a raised garden bed except that it has a transparent roof (glass or plastic) that slopes toward the sun. In fact, a coldframe can be installed over an existing raised bed.  It must be placed in a location that allows for full winter sun and the roof is hinged or removable to allow for tending of the plants. The cold frame can be constructed with new or recycled materials.  In our limate, a coldframe is most effective when buried just a few inches underground, which allows the ability of the earth to retain heat to aid in temperature control.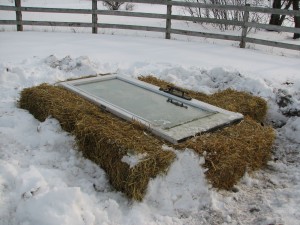 We can design and construct a cold frame to fit your exact needs. Options such as automatic ventilation can be added to enhance it's productivity.  Cold frames are typically 6" – 24" tall but can be built to virtually any length and width. These are a great tool if you're dealing with limited space. There's no reason to wait until spring or summer to install your cold frame. This element does it's best work while there's still snow on the ground.
If you would like to get going on an early crop, or to start your tender crops as seeds, but you are unsure how to begin the project, Heirloom Gardens can help!
Call Dan at 775-742-3376 or email at Dan@HeirloomGardensReno.com