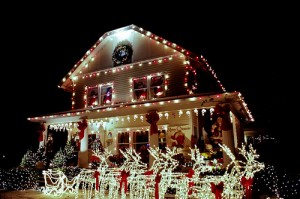 I just went through all of my Christmas stuff from my past life. I'm talking boxes and boxes – of lights, of ornaments, of plastic stuff shaped like holly and Santa Clause and snowmen. It is embarrassing. Most of it is junk, even though it may have been expensive. Junk that had to be manufactured, mostly from fossil fuels, and then shipped from Asia mostly, then transported to the retailer, then I brought it home, and now most of it needs to go into the land fill.
 And honestly, at the time, I convinced myself that buying these things would make Christmas better somehow.
Now that I have a 10-year-old stepson, we got it out and made a little Christmas. We gave or threw the rest away. We have a bunch of outside lights too… maybe next year. Looking at it all got me to thinking about Christmas and the way it has become so commercial. Why do I even want to put up outside lights? It seems like Christmas itself has become a celebration of consumerism. However, I do like the way they look. They make the house feel festive and they add light and warmth to the neighborhood. And I suppose if I was Christian, I might think they remind us of the purpose of Christmas. That 2000 years ago, man was headed in the wrong direction and it took the son of God to die on a cross for us to realize the error of our ways and to get back on the right track. I'm still not sure how much the lights on our house are related to the savior of humankind. Or better yet, if we really like the lights, and they are reminding us of beauty and warmth and love-of-fellow man, then why not leave them up all the time? And let's face it, some of those displays are absurd, with thousands of bulbs, and blow up stuff, and articulating reindeer, and stereo sound playing carols. That type of display is unsustainable.
When I was in the thick of trying to impress people with superficial stuff, about five years ago, I had a huge house and I actually considered paying someone to put the lights up. But my husband at that time was not so much into Christmas and vetoed that decision (thank goodness!).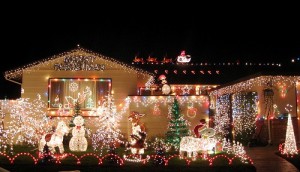 So, now that I am re-thinking all of my ideas about what is valuable and what is harmful, how do I plan to deal with the whole idea of Christmas? For one, I have enough Christmas decorations to last the rest of my life even after loads of purging. Therefore, I vow not to buy anything plastic that was made in Asia and shipped across the world to decorate for Christmas. I will try to find ways to create light and warmth and that wonderful Christmas glow using my own creativity or that of others. Money cannot possibly buy true love and that is what Christmas is about.
Photo credit: Christmas Lights by Paul J. Everett and These people went all out by VSsmoothe  from Flickr via Creative Commons license.