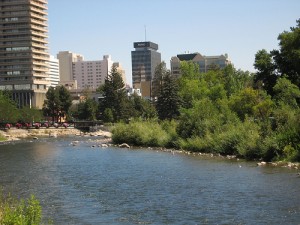 Okay, I'm 
just gonna say it:  all of us in Reno are feeling distraught by the state of economic affairs here. It has been crushing to our real estate and building industries, drying up sources of spending and forcing many small businesses to shutter. And now every time we are in the news, it seems like our home goes down a notch in the eyes of the rest of the world;  think motorcycle shootings, raging wildfires, gunfire at the IHOP, and plane crashes into our already waning tourism industry. It's enough to make a Northern Nevadan cry and then shrug wondering, what can I do?
Well there is something I can do. And it's really not a huge sacrifice on my part. I will try to spend my money (which is meager, but it's all I have) at businesses that are locally owned. This one action can have huge impacts locally. The owners of the businesses will be more likely to stay in business, allowing me to have choices beyond big box stores. Those same owners will then spend their profits locally rather than taking them to the other cities where the owners and stock-holders of Schiels, Costco, Pet Smart, Wine and More, Starbucks, etc, live. And then, those newly-empowered purchasers might use some of their money at my business, allowing me to stay in business myself.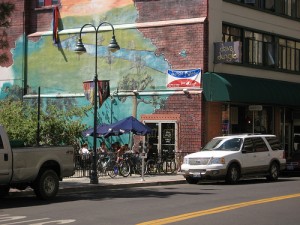 I found an online directory of locally-owned businesses.  I would like to do more research and create a more complete list myself in the future. But I can tell you this, every dollar you spend at Wal-Mart is a vote for corporate America and vote against Reno and its economy. Our dollars are important. Every time we spend one, we are sending a message to those controlling things. The easy cop-outs for me have been; 'I can't really make a difference, I'm just one person," or "I need to buy it there because it is cheaper and I am on a budget." But we can make a difference. And I know that always starts with me.
The thing about making a difference in the world is that if it doesn't require any sacrifice on our parts, it probably won't really make a difference. There will always be a million excuses for why I shouldn't do something, mainly about money; I can get my organic onions from Costco. They will be less expensive. They might even be better looking. But that sends money out of Reno. If I get them from the Food Co-op, they are locally raised. They are only transported a few miles. They do not come in plastic packaging. And the money stays in Reno, where we really need it. It is a sacrifice, but Reno needs us to quit waiting for something to happen. We all need to support each other because nobody is going to come bail us out. We are in this alone from the rest of the country, but together with each other. We need to come together as a community, hunker down, make sacrifices for each other. And this is a way we can do it together, as a community, as neighbors and friends. Not charity, but foresight. And I know I can make a difference. I support you Reno in both my heart and my actions from here on out.