This is a really good story that keeps getting better! So when Dan was 14 his stepdad, Dennis, brought home an almost new, very hip truck that Dan immediately fell in love with. This February, Dennis gave that old truck to Dan for his birthday. We figured it was perfect for our new business, which focuses on the old ways and making the most of what the earth already has given us.  So we had the engine re-built, got new wires that had been chewed by the mouse family that made residence in it for a while, we repaired the broken windows, the emergency brake, fixed all the cracked plastic, got a new radio, etc. And then we had it painted, a gorgeous new bright blue metallic. It is a blast and people stop us to say they like it.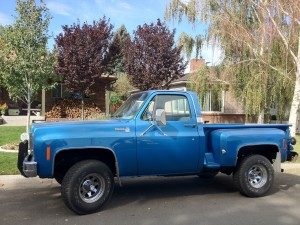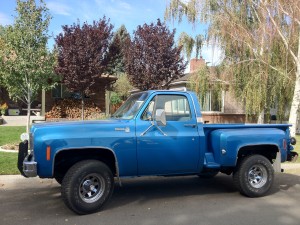 As I write this, we are working on getting our company logo "wrapped" onto the truck. Here's where the story gets really interesting! Dan's stepdad, the one who gave him the truck, is a graphic artist. He's retired now, but when we were looking for an artist to help us create a logo for our new business, we approached Dennis. He happily agreed to help us and set to work putting ideas together. He presented us with three options, two were manifestations of our ideas and one was his own creation, completely different than our original ideas. Both Dan and I fell in love with his concept and it is now  our logo, with the antique tools and chicken, etc. Anyway, the irony is that we will be putting HIS design across HIS old truck! It is just a super fun coincidence I suppose, but it makes me smile big!
I'm gonna Tarantino back a bit though and explain some more coolness that the truck has inspired. Let's just suppose that we took the number of dollars we have invested in Ol' Blue and put it toward a "better" (new) truck. Most of the money we spent on the new truck (which is a lot more than we have in Blue) surely would have left Reno. That is, only the dealership's commission would have stayed since cars are not manufactured in Reno. Check this out: most of the money we have put into Ol' Blue has stayed in Reno! The engine was re-built locally using mostly recycled parts. Sure we bought some parts; window handles, a new dashboard, a radio, wiper blades, etc, but all of the mechanic work was done locally (nod to Dan at Valhalla), helping to keep those guys in business. The painters may have used imported paint, but the work was all done here. Ol' Blue is all about supporting the local economy.
And then there are those that will say, "But Ol' Blue gets crappy gas milage, you should get a newer vehicle to save gas." I disagree. When you take into account all of the fossil fuels it takes to manufacture all those car parts, ship them around the world, finish manufacturing the car (made mostly of plastic, fossil fuels), then ship that car around the world again to my dealership, I think Ol' Blue may be ahead on the fuel consumption issue also. Oh and that doesn't even address the environmental problem of disposing of an old vehicle.
Others have told us, "you will have huge maintenance bills with an old car."  Okay, perhaps, because we really haven't had much time to see how constant of a problem it will be. However,  with a new engine and a very simple design, I think we will be okay for a while. In fact, think about this, the old car repairs didn't involve replacing expensive computers and electrical system that are all tied together, and expensive plastic parts that must be shipped from Japan. This car can be worked on with wrenches and screwdrivers, by men, rather than machine and computers. And it can be repaired using recycled and refurbished materials.
The lesson I am learning from the story of this old truck? That Ol' Blue may be the greenest car on the road!