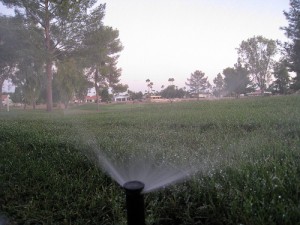 This year's mild winter weather will no doubt remind all of us as to the fragile nature of our water resources in Northern Nevada. Every few years, Mother Nature reminds us that we live in the desert. So I'd like to talk about lawns and sprinkler systems, actually "sprinkler nozzles" to be more precise.
Were you aware that many of the major manufacturers now make a more efficient nozzle that can shave 30% off of your lawn watering consumption? Most of us use the standard "spray" pattern and it doesn't take a rocket scientist to see their inefficiency on a breezy day. No really! It's windy here, but at least the neighbor's driveway stays clean.
The new technology uses a rotating, stream pattern that has proven to be far superior for it's wind resistance and overall absorption rate. Sounds expensive right? The price will vary with the manufacturer but in many cases the retro-fit nozzles sell for as low as $5.00 each. I did some conservative math in my yard and realized that we will likely cover the cost of materials and installation in one season. But the truth is, this makes sense at just about any price. If you are thinking about water conservation and ways you can reduce it in your yard, this is a great step to consider.
Photo credit: Greening it up by Drew Bloomfield, from Flickr via Creative Commons license.