Got weeds? Don't blame it on Arnold Palmer….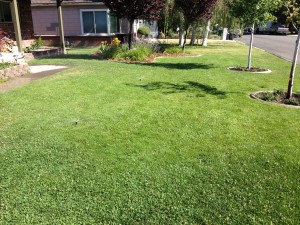 For most Americans the perfect yard includes grass, in some cases lots of it. Not just any grass though, the turf must be lush, green and free of weeds. Of course this achievement isn't natural and requires the consistent application of synthetic fertilizer, selective herbicides and lots of water.
Up until the 1950's turf grass was primarily installed and utilized for recreation in the US. From that point forward turf was mostly considered ornamental and in many cases a status symbol. Some experts blame this on professional golf and television. As televised golf gained popularity so did the desire for thriving , weed free monoculture in yards. Even dry, arid climates such as Reno enjoy this luxury today.
Going organic will require a perceptual shift for many people. With applications of natural elements such as compost and nitrogen (fish emulsion for example) chemical free lawns are often as lush and green as any other on the block. However we do find more than just grass in our grass. Clover for example has become all but extinct in my neighborhood with the exception of my lawn which is full of it. As it turns out clover is a "nitrogen fixer" and rather than choking out the grass it actually helps the turf absorb the available nitrogen in the air and soil. This in itself dramatically reduces the need for fertilizing. Then there's the perennial battle of the dandelion. Despite the fact that they are also nitrogen fixers I pull them every chance I get and find that they only thrive where the turf is weak.
So if you're considering a chemical free lawn start by evaluating what's important to you. If health and ecology prevail over image then you're a good candidate. Assuming that's the case perhaps you should start by teaching your kids to wear shoes while playing on the grass (they will be happily ignorant of bees and clover). Or as is the case in my house they may soon realize that an occasional bee sting is not the end of the world and certainly a safer alternative to the chemicals most of us use today.