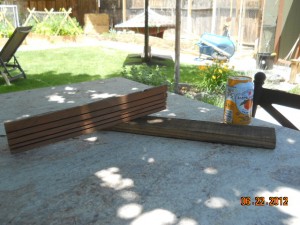 If you're gardening in Northern Nevada it's likely that you fight earwigs daily. I'm in favor of mulch in and around the beds which seems to make the earwigs incredibly happy.  Never fear organic gardeners there are some strategies I've found to be pretty effective.
Redwood Traps: Take two equally sized redwood pieces (I have an old fence post but  2×4's would work) cut channels into one piece and lay the two flush sides  together.  Bury both halves in the mulch a bit if you can. Check the traps early in the morning and you're likely to find several dozen earwigs  nesting in the channels.  I feed 'em to the chickens but one can easily drown them in light, soapy water.
Plastic traps:  Used, small sour cream or cottage cheese containers work pretty well. Place a smelly food scrap (tuna for example) and about ½ inch of  vegetable oil  inside the container. Poke or melt several earwig sized holes into the lid of the container then seal it up.  This trap worked extremely well until Tony Blaze (our cat) discovered them.
Spray at sunset:  A very seasoned gardener friend of mine lightly sprays his garden with water every evening after dinner and swears the earwigs hate it. I do know this strategy works well with aphids and it certainly shouldn't hurt the plants in moderation so why not huh?
Plant a couple of extras:  We know that we'll lose a plant here and there so we take the time to plant a few spares.
Give it a try and if you have any ideas or experiences to share, please do.
Dan