We are the preferred leader in Organic Gardening and Permaculture Landscaping Company in Reno, Nevada.  Our speciality is focused on  landscaping design, maintenance, and installation, focusing on natural and organic gardens. We will help you create more naturalized spaces in your yard that will prove to be beautiful and fruitful, while requiring less work than you ever thought possible. The techniques of the Permaculture movement promote using our outdoor spaces to provide for ourselves (think beauty, food, playground, animal play areas, etc) and at the same time to be inviting to all of nature.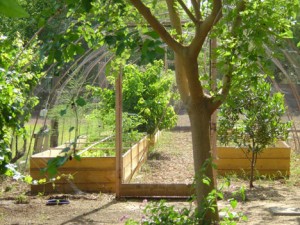 Additionally, we are maintaining lawns and gardens using chemical-free techniques and natural methods to control disease and to nourish inhabitants.
Our research and training is leading us to question our place on this planet, and you can explore our musings by reading our blogs at right. New me is Valarie's blog which documents her path to find a more sustainable place on earth. Dan's blog recounts his experiences with the new, greener, healthier, more sustainable techniques we are learning to employ.
Welcome to our calling in life – Heirloom Gardens is a dream come true!