I started having kids at a very young age. At the time, I had the mistaken idea that money could make people happy. As such, I thought nothing was too good for my kids. Examples of my indulgences include: piles of presents for birthdays and holidays, expensive, well-made clothes and shoes, cars when they turned 16 (more or less), boats, skiing (b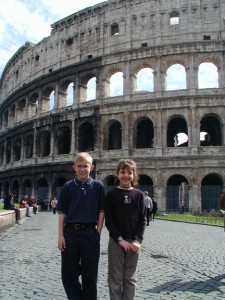 oth snow and water), lessons of all types (musical instruments, languages, art, sports, etc.), trips for competitions, trips for swim and track meets, family trips abroad, Pottery Barn furniture in their individual bedrooms with private baths, swing sets, hot tubs, steam showers, surround sound movies and video games, birthday parties every year, one year I even rented a limo for my 7-year-old daughter's birthday!
In my defense, I never really considered that my/our gluttony was at the expense of anyone (or anything). Of course, I now understand that it is. I understand that when we allow ourselves to live in an unsustainable manner, using massive amounts of non-renewable resources for our own luxurious living, that comes at a price. Other cultures, both now and in the future, are not or will not be able to have the same luxuries. We share this earth with 6.8 billion human beings and not all of us can own cars, can take our families across the ocean on trips, can have six TVs with premium cable, can eat until we need surgery so we don't kill ourselves, can live in four bedroom houses with two air conditioning units and a den. It just is not possible.
So I have decided to try to change my life, to stop the madness from where I am and in the ways that I can. But what about my kids? No matter what I do myself, there are three of them and they are off on their own, a bit late for me to instill more well-grounded ideals in them!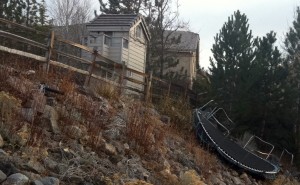 The good news is – they came through it okay. I can't say they are perfect, but at least they are open to critiquing commonly-held ideals and they are confident enough to step away when they see something they don't believe is right. In fact, it was my daughter who inspired me to challenge my long-held attitudes about social and environmental responsibility. She went off to college and transformed. I was amazed to watch her turn into a tree-hugging, vegetarian, academic willing to sacrifice many common comforts for what she believes is right. I am proud of her and happy to report that she has helped me to make some fundamental changes that can and will help me begin my own transformation.
But each day that our kids see us abusing the earth, and people from other cultures, and future generations, they are learning that we, that they and their own kids, are more valuable than others and we continue the cycle of damage. I am proud of my kids, their accomplishments, and especially their open-minded, forward-thinking attitudes. But I am ashamed of the indulgent way I raised them. I would guess that they would say many of the indulgences were unnecessary and perhaps even confusing. I wish I could take it back but I can't. I just have to start where I am.