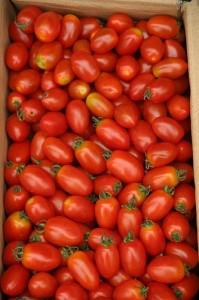 One sunny day last Fall, at our local Farmers Market. My lovely wife is always thinking ahead. I thought, "We'll make a giant pot of spaghetti sauce then pelt the neighbors barking dog with the remaining ten pounds"! She had other ideas.
So we spent the next day scrubbing, slicing, blanching, boiling, measuring and pouring. It was our first attempt at canning and we weren't completely sure we did it right but we were eventually rewarded with 15 quarts of pale, red goop. I wondered what we would do with all that food. By my calculation (at two scoops per day minus one jar thrown at the neighbor's dog) this supply would last us well into 2014.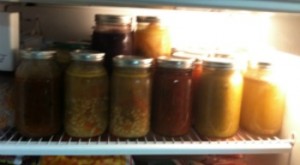 I couldn't help but notice yesterday that all the jars of tomatoes are gone. There are a couple of jars of soup and at least one "killer chili" remaining but the tomatoes as I remember them are gone. I'm amazed at how well we've worked that and many other healthy fruits and vegetable into our daily diet. Local, healthy food and self sufficiency, what a concept! Thank you Valarie, for all you do. Gotta go now, I hear a dog barking.
Photo credit: farmers market tomatoes by Mook Elliot, from Flickr via Creative Commons license.