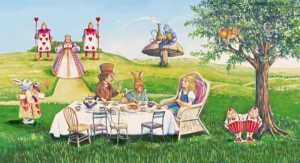 – You are invited to a swingin', dirty dancin' tea party –
– Time and location to be determined by you –
– We provide all the food, drink, and billions of festive friends! – 
Our party comes to you in the form of an actively aerated compost tea (aact). Our locally-appropriate brew is made here on our urban micro-farm using our own finished compost plus vermicompost from Red Worm Organics in nearby Sparks, NV.
In addition to providing the very organisms that will feed all of your plants, this party contributes to your local eco-system, providing nourishment to everything it comes in contact with and adding nothing but benefits to the air, soil, and local watershed. REALLY – it is possible to have a beautiful, lush, green, productive yard without any of the myriad problems associated with synthetic chemical fertilizers, pesticides and herbicides.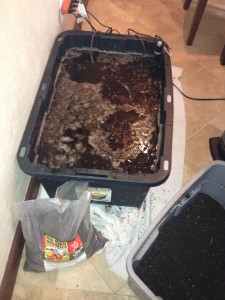 We start with a mix of the two composts, each providing different beneficial organisms to send to the big party. We add the mix to de-chlorinated water, along with some unsulphered blackstrap molassas and kelp (food for the new babies), and rockdust (to promote fungal growth).
Next we make sure the brew is kept between 65 and 75 degrees F. The organisms that keep the party sweet instead of stinky prefer lots of bubbles, which we provide in abundance. In they go and around and around they swirl, bubbling, and churning together in a beneficial brew of soil deliciousness! After 24 to 36 hours of swingin' and dirty dancin', we have grown the population of beneficial organisms from 1 billion per teaspoon of finished compost to 4 billion per teaspoon of actively aerated compost tea, according to Lowenfels and Lewis in "Teaming with Microbes". That's the good stuff!
We use these same ingredients and methods in all of our tea brews, sometimes changing the procedure slightly to encourage fungally- or bacterially-dominated tea. We prefer fungally-dominated teas in the fall and winter, aimed at improving life for perennials and trees. We use bacterially-dominated or more-balanced teas in the spring to encourage healthy growth from annuals and grasses, in addition to perennials.
Innoculation – bringing the party to your yard.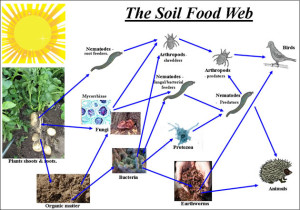 We pour or spray the finished tea brew onto the leaves or into the root zone of all plants and grass on your property. Our compost tea smells sweet and earthy, like finished compost. However, to give the organisms a boost on the way in, we mix a bit of organic fish emulsion powder (stinking it up some) before we apply it. We also add some live mycorrhizal spores, which are the connectors of the community, introducing our beneficial new friends to your plant's roots in the most productive way possible. These organisms work their way down into the rhizosphere (area around the root zone of your plants) and within hours they are doing their magic. If it is too cold, they will lay in dormancy until the soil warms a bit. Now the party really begins!
Compost tea along with organic nutrient application will provide everything your soil needs to support healthy plants regardless of soil type or condition. Organic landscape maintenance is not a trick, we just emmulate natural systems. These methods seems to have worked pretty well for the past 3.6 billion years since life appeared on earth. Organic methods work quicker, easier, and are less costly than most realize. Isn't it time to get our yards, gardens, communities and food supplies off of the addictive fast food diet that the chemical companies have sold to us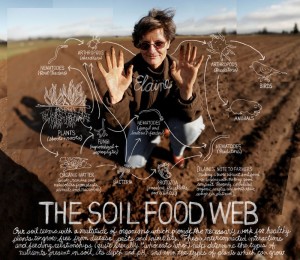 for the past 50 years?
If you are game, now is the perfect time to get this party started
At Heirloom Gardens, we focus on building soil that is healthy and alive. In turn, rich soil will feed your plants in the way nature intended; synthetic-free, organic, healthy, and sustainably. Ultimately, these organic methods will reduce the time and inputs required while creating beautiful and bountiful yards and gardens. Come over to the dirty side with us!
Call Dan at 775-742-3376 or email Dan@HeirloomGardensReno.com for more information.